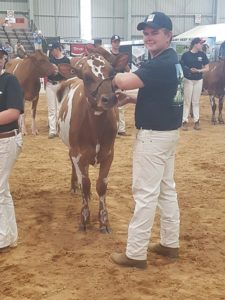 Kyle Bolam is off to represent our zone at the Royal Easter Show after winning first in the Experienced Parader's class and winning Overall Champion Parader at the Eugowra Show last year.
"I feel very lucky to have been provided this opportunity and can't wait to compete in Sydney," said Kyle.
Opportunities like this can come once in a lifetime for some students, but with dedicated teachers such as Rachel Eagles and Damian Byrnes of Forbes High School leading the schools show team, it is evident that these opportunities are proving to lead to student success.
"We are so proud of Kyle and his achievement. He has a wonderfully calming manner with the cattle," Rachel said.
Kyle has been with the school's show team for a number of years and recently travelled during the January holidays with fellow student Jack Coles, to compete in the International Dairy Week in Tatura, Victoria.
Both boys paraded heifers and their team came in third overall.