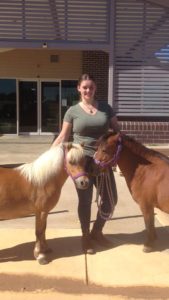 Kelsey Muller had no idea what the future would hold for her when she started taking her two beautiful miniature horses, Blondy and Jazzie to visit the residents of Jemalong Residential Village (JRV).
Now, 18 months later Kelsey has received the 2018 Young Citizen of the Year award at the Australia Day community celebrations held at Lion's Park.
"Australia Day was truly something special! The activity was just an idea that came to mind and I worked towards making it happen in my own community. It's simply just sharing what I get to enjoy every day. The minis enjoy the attention they get and are quite willing to pose with families for photos or walk in and around the rooms," said Kelsey.
The idea came to Kelsey after watching a news item on television one day. The story showed someone taking a horse into a retirement village and spoke of the benefits people could experience from interacting with animals. That's when Kelsey thought, "Why not?"
With this vision in mind, Kelsey set out to train the miniatures so that the horses were desensitized to every situation possible. For many months, she walked them along streets, over different surfaces and obstacles and into enclosed spaces.
"To this day, residents still wait for Blondy and Jazzie to come up and say 'hello'. Our JRV coordinator, Merryl Morris guides us around and has played such a huge part in helping and organising future visits," marks Kelsey.
With university starting mid February, Kelsey is hoping that the monthly visits to the retirement village, will continue through her mum and dad or whenever she can come home from Armidale.
By Gizell van Wyk