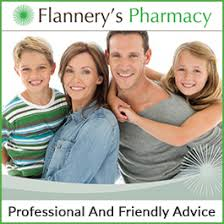 The head cold, also known as the common cold, is usually a mild illness but it can impact your daily life. In addition to sneezes, sniffles, coughs and a sore throat, a head cold can leave you feeling tired, rundown, and generally unwell for several days.
Sarah Hazell, Pharmacist at Flannery's Pharmacy shared some self help tips to relieve the symptoms of the common cold.
"It's important to get plenty of rest, drink lots of water, keep warm and eat a healthy diet with plenty of fruit and veggies," said Sarah.
"It's also vital to avoid cigarette smoke as this will exacerbate the symptoms," said Sarah.
Many people benefit from boosting their immunity to prevent the common cold.
"Taking immune booster products can help with general immunity and can also help reduce the severity and length of colds," said Sarah.
Colds and flu can make other conditions worse, such as asthma or diabetes. You should see your doctor if you:
• Have symptoms lasting longer than 10 days;
• Can't or won't drink fluids;
• Vomit frequently;
• Experience intense headache;
• Experience chest pain;
• Have breathing difficulties and
• Have a rash with a fever
There is a large range of over the counter medications which can help relieve the symptoms of the common cold including throat lozenges, gargles and sprays for sore throats, cough mixtures/tablets to alleviate dry or chesty coughs and medications to help with blocked or runny noses and headaches. "It's best to visit the Pharmacy to discuss your symptoms and seek professional information and advice," said Sarah.