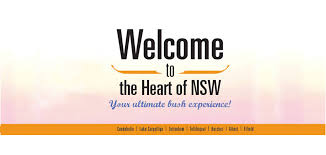 Escape To The Heart Of NSW
The Heart of NSW encompasses the local government area of the Lachlan Shire and is well known for its natural beauty and friendly and welcoming locals.
Condobolin is the largest town in the Lachlan Shire followed by Lake Cargelligo and Tottenham then the villages of Tullibigeal, Burcher, Derriwong, Albert and Fifield. All towns and villages have unique features and attractions to explore so start planning your next trip to see some of the most beautiful country in Australia.
Condobolin lies on the banks of the Lachlan River, an hour from Parkes, Forbes, West Wyalong and Lake Cargelligo.
Include in your travel itinerary, Gum Bend Lake, a man-made lake three kilometres from Condobolin and 1.75 metres deep when full. Gum Bend Lake is ideal for water skiing and also proves popular with bird watchers and fishing on the nearby Lachlan River.
Admire the Lachlan River, and put the Wiradjuri Study Centre, Mount Tilga, the Condobolin Railway Museum and Lachlander Museum on your to-do-list.
For lunch or dinner, the Condobolin RSL has a menu selection that will satisfy any taste bud. Enjoy the club's live entertainment every Friday.
Lake Cargelligo is a quiet rural service town which lies on the banks of a delightful lake. It is surrounded by a prosperous pastoral district where wheat, wool, fat lambs, fruit and vegetables are produced.
Lake Cargelligo holds much to see and do. An ideal way to explore the town is to walk or cycle around the lake on the clearly marked walkway/cycleway. Lake Cargelligo is 8km long and 3.5km wide. While it is an ideal spot for yachting, fishing, water skiing and swimming, it is also a haven for birds.
There are also a number of historic markers around town identifying where the Wiradjuri get their ochre from; where the old gold stamper battery was located; the history of the local railway; and an historic wool wash out at Wooyeo Woolshed.
The Tourist Information Centre in Foster Street is home to the Alf Tyack Stone, Butterfly and Gem Collection, which is one of the main attractions for visitors.
Hargrave Rural Traders is the go-to-place for a great range of services, including real estate sales, livestock sales and rural merchandise sales. Cargelligo Auto Parts has all your car part and accessory needs.
For hotel style accommodation and daily bistro specials, call in at the Commercial Hotel. Your hosts are Graham and Sue Hill.