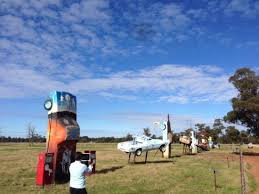 With the school holidays on now why not take a short trip to the Lachlan Shire. Located in the heart of NSW, it is well known for its natural beauty, friendly and welcoming locals and relaxed bush lifestyle.
The towns in the shire capture the essence of life in the bush. Condobolin is the largest town with a population of almost 4,000, followed by Lake Cargelligo and Tottenham and then the villages of Tullibigeal, Burcher, Albert and Fifield.
Condo is home to singer Shannon Noll. He filmed the video clip for his first single, What About Me?, in Condo.
Condo, as it is commonly known, is the home of the Karie people with the lower Lachlan region considered to be the heartbeat of the Wiradjuri Nation. The Wiradjuri people are also known as the people of the three rivers. They have inhabited modern day NSW for at least 40,000 years.
The Wiradjuri Cultural Centre is located on the corner of Cunningham Street and McDonnell Street in Condobolin. It was constructed for the express purpose of promoting the study and understanding of Wiradjuri culture. The centre offers a local hub for training, development, employment, cultural appreciation and cultural awareness. There is also an art gallery and a yarn up space for visitors to gather and enjoy the environment. Local Aboriginal art and products are available for purchase from the gallery.
Another attraction Condo is famous for is the Utes in the Paddock, an outdoor gallery located 3km down the Mulguthrie Road near Ootha. Various models of Holden utes act as a canvas for the completion of high quality ute works that celebrate bush life in Australia. The collection features some of Australia's best known artists including John Murray, Shane Gehlert, Peter Brown, Adaum Cullen and Condo's own local artist Karen Tooth. Lachlan Shire is looking to locate the utes to a more high profile location in the near future.
When we travelled to Condo to meet with the locals we were really pleased with how welcoming and supportive they were, and I have heard this from many people about the great spirit of this town and the other towns in the Lachlan Shire. It is certainly well worth a visit, and if you get there around coffee time why not head to Café Romo, which is a quirky little coffee shop in the main street, with a great friendly atmosphere and most importantly, good coffee and food.
We also loved the little boutique in Bathurst St, Yours and Mine Vogue which had amazing clothes and jewellery.
Take the time to visit this amazing Shire it is well worth the drive to visit and see some of the amazing places and scenery just 100kms from Forbes.