With the school holidays starting today why not take a short trip to the Lachlan Shire. Located in the heart of NSW, it is well known for its natural beauty, friendly and welcoming locals and relaxed bush lifestyle.
The towns in the shire capture the essence of life in the bush. Condobolin is the largest town with a population of almost 4,000, followed by Lake Cargelligo and Tottenham and then the villages of Tullibigeal, Burcher, Albert and Fifield.
Condo is home to singer Shannon Noll. He filmed the video clip for his first single, What About Me?, in Condo.
Condo, as it is commonly known, is the home of the Karie people with the lower Lachlan region considered to be the heartbeat of the Wiradjuri Nation. The Wiradjuri people are also know as the people of the three rivers. They have inhabited modern day NSW for at least 40,000 years.
At the time of European colonisation, there were an estimated 3,000 Wiradjuri living in the region. This country extends from the Great Dividing Range in the east and is bordered by the Macquarie, Lachlan and Murrumbidgee Rivers.
The Wiradjuri nation is the largest in NSW and second largest geographically in Australia. Lachlan Shire Council is positioned in Wiradjuri Country with one in six people identifying as Aboriginal.
The Wiradjuri Cultural Centre is located on the corner of Cunningham Street and McDonnell Street in Condobolin. It was constructed for the express purpose of promoting the study and understanding of Wiradjuri culture. The centre offers a lo- cal hub for training, development, employ- ment, cultural appreciation and cultural awareness. There is also an art gallery and a yarn up space for visitors to gather and enjoy the environment. Local Aboriginal art and products are available for purchase from the gallery.
The Western Plains Regional Development building houses a traditional basket weaving display made by local artist Bev Coe. Also on display are stone artefacts collected by local man Stan Dodgson and a permanent display of Aboriginal family history, which will be of interest to history buffs.
Another attraction Condo is famous for is the Utes in the Paddock, an outdoor gallery located 3km down the Mulguthrie Road near Ootha. Various models of Holden utes act as a canvas for the completion of high quality uteworks that celebrate bush life in Australia. The collection features some of Australia's best known artists including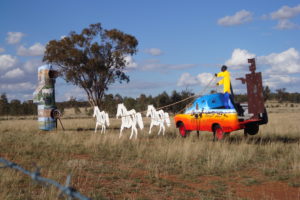 John Murray, Shane Gehlert, Peter Brown, Adaum Cullen and Codo's own local artist Karen Tooth. Lachlan Shire is looking to locate the utes to a more high profile location in the near future.
Sleeping under the stars is a part life in the Lachlan Shire and with the amazing night skies, you will not be disappointed. Whether it's pitching a tent, setting up a camper trailer or experiencing the cara- van or motorhome camp experience, the Lachlan Shire caters for all visitors includ- ing freedom campers at Gumbend Lake in Condo, Dead Man's Point and Frogs Hollow in Lake Cargelligo to name a few. There are many caravan parks to choose from, including Gum Bend at Condo, and Frogs Hollow at Lake Cargelligo. All towns and villages are RV friendly.
There are also motels and hotels for ac- commodation. The Lake Cargelligo Motel is a small 10 room motel run by local couple Mark and Ingrid Stenhouse and is within easy walking distance of the main street and shops.
Lake Cargelligo is an unexpected oasis in central NSW and its beauty and tran- quility has remained unspoilt. It's a perfect place to stop, stay and indulge in a range of wonderful water activities including ski- ing, sailing, fishing, jet skiing, canoeing and swimming.
It is a spectacular location and the show- piece of the largest inland lake system in NSW with a volume of 36,000 mega litres, a surface area of 1,440 hectares and an average depth of 3.7 metres. Part of Lake Cargelligo is a bird sanctuary, making it very popular for bird watching.
There are around 230 bird species in the Lachlan Shire of which 60 species visit on annual migrations.
The inland rivers and lakes provide some of the best fresh water angling in the region with sought after species such as Murray cod. Golden and silver perch, redfin and catfish are also a big attraction for many catch and release anglers. Many of the riverbanks in the area are shaded by tall red gum trees, many of which have Aboriginal scars and markings.
There are a range of museums in both Condo and Lake Cargelligo, including the Condo Historical Museum, the Condo Railway Museum and the Lake Cargel- ligo Historical Society Museum. The Condo Community Centre Craft shop offers handmade craft items, souvenirs and locally made relish, jam and pickles.
In Condo you have a variety of places to choose from to have a meal or just a coffee. Café Romo is a quirky little coffee shop in the main street with a friendly atmosphere and most importantly, good coffee.
Another place to drop in for a bite is the Condo RSL, which has specials each day of the week in its Bistro as well as offering TAB, Keno and Sky and Fox Channels for the sporting enthusiasts.
If you have time for shopping you will find a good variety from a flower shop with lots of extras to furniture, gifts and home- wares, watches and jewellery.
There is lots to discover in the Lachlan Shire.