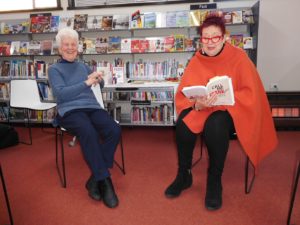 Forbes community members took advantage of the wonderful opportunity to attend a visit from the dynamic Blue Mountains based author and motivational speaker, Julie Ankers at the Forbes Library on Tuesday afternoon.
Forbes librarian, Bronwyn Clark whom had previously hosted Julie with the launch of her first book, said that the talk by Julie was enthusiastically received by guests attending and was followed by a beautiful afternoon tea.
Julie is currently visiting libraries across the Central West to promote her latest book 'Call Me Frank'. It is a collection of 20 autobiographical stories of men over 50 telling it like it is at this stage of their lives. The stories are honest, sometimes confronting and always inspirational. These heartfelt narratives are also a magnificent response to those sceptics who said that this book would never happen because men don't reveal their feelings. Julie, along with co editor Kerry Chater, had the men tell their stories in their own words.
'Call me Frank' is the companion book to 'Feisty, Fabulous and 50+', a collection of 21 "warts and all" autobiographical stories of women navigating their way through their 50's and beyond.
Julie is an entrepreneur with a passion for promoting and developing people which is why she started a speakers and trainers bureau 25 years ago as well as a company focusing on retraining mature age workers and building effective age-inclusive workforces. This kick-started her interest in the over 50's.
Five years ago Julie decided to make a tree change and currently lives in the Blue Mountains. She divides her time between presiding over a community radio station, her various board/committee commitments and writing. Not forgetting her obsession with beautifully designed hand-crafted jewellery, her love of a good book with a glass of red, theatre, cinema and the exquisite beauty of the Blue Mountains.