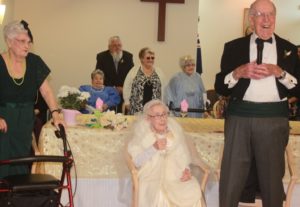 Excited residents at the Jemalong Residential Village (JRV) had front-row seats at their own mock wedding to celebrate the royal marriage.
Residents of JRV were keen to celebrate the recent royal wedding in style. Residents helped staff plan and stage a fictitious ceremony that brought the wedding of Prince Harry and Meghan Markle to life at JRV on the eve of the royal marriage.
Invitations were distributed to all residents asking that they wear their best attire for the occasion. The bride and groom remained anonymous until the day, causing lots of speculation as to the identity of the mystery couple.
Residents assisted in various capacities, including the floral arrangements and bridal bouquets. Staff and residents played various parts in the marriage ceremony concluding with the bride, portrayed by JRV resident Gladys Johnson, and the groom portrayed by another resident Paul Hanbury, being pronounced as "besties".
The bridal waltz was replaced by the "chicken dance" and the celebrations also recognised those present who were having a birthday!
The JRV Opal Room venue was packed with residents, staff, family and friends along with lots of fun and laughter. The Queen and Prince Philip were also present and graciously helped staff and volunteers to serve some afternoon tea. Staff members Rose Carroll and Brian Dunn depicted these roles.
For all who attended, the event was greatly enjoyed and one to remember.