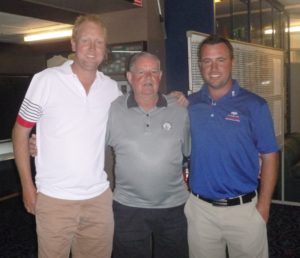 The 3rd and 4th rounds of the Men's Championships, sponsored by Lachlan Commodities, were held last weekend. For many in the field of 71, Saturday was 'moving day' but Sunday was 'oh what might have been'.
In the A-Grade John Betland continued his dominance with a 68 scratch score on Saturday and 76 on Sunday. This was enough to win by 11 shots from Dan Bayley (70, 75) ahead of an out of luck Steve Betland (78, 80).
The A-Reserve Grade saw Terry Griffiths hold his lead with well composed scores of 87, 88. Finishing like a greyhound was Doug Churchill (89, 83), who got there on count back from Bruce Carpenter.
The B-Grade saw runaway leader Robb Webb stumble a bit but going on to win with his 84, 92 finish. Runner-up was Scott Kirkman who flew under the radar with 92, 88 to finish three shots back.
The C-Grade had leader Rod Besgrove (96, 100) finish as the winner. Runner-up was Craig Barrett (93, 93) only one shot back.
The results for the Daily Comps sponsored by Pool Magic were: Saturday in the A-division Dan Bayley (66 nett) from John Betland (69 nett). In the B-division it was Dave Rhodes (70 nett) from Michael Browne (71). On Sunday in the A-division D Churchill (71 nett) on count back from P Dawson. In the B-division, the winner was C Alley (nett 71) ahead of A Alley (71).
The best shot all weekend was that of Neil McMillan on the 9th. His tee shot finished only 5cm's from the cup and that much short of a hole in one.
Presentations will be held on 18th November after the day's golf, which is the 'Medal of the Medallists'.
The Rotary Charity Day is on this Sunday. Group play with a 10am shot gun start. Contact the Pro Shop for details.
By Short Putt