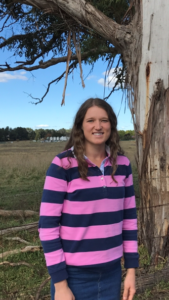 Forbes local Jessica Zieltjes has been awarded a 2017 Horizon Scholarship to support her studies in Agriculture at the University of New England (UNE).
Jessica was one of 15 students to be granted a scholarship from a pool of over 150 applicants. She will receive $5,000 each year while she completes a Bachelor of Rural Science at UNE, with the aim of becoming one of Australia's future agricultural leaders.
Jessica and her family moved from dairy farming in New Zealand to a cropping farm outside Forbes about ten years ago. She has always had a passion for agriculture, and is interested in the increasing variety of industries within Australia and internationally. Jessica is particularly interested in Australia's relations with neighbouring countries.
"New and emerging industries pose great potential for the future of agriculture," she said.
"I hope to be among the future agricultural leaders conducive to the growth and improvement of agriculture in Australia and internationally, applying my knowledge and skills to aid this industry which is core to society," Jessica said.
Jessica described the Horizon scholarship as offering an invaluable path to networking and learning new skills and said she was immensely grateful to have received the opportunity.
"These scholars are tipped as our brightest young leaders and are the ones to watch when it comes to shaping the future of Australian agriculture," he said.
The Horizon Scholarship is an initiative of the Rural Industries Research and Development Corporation (RIRDC), and recognizes students for their leadership and commitment to the future of Australian ag- riculture.
It is open to first-year undergraduate students studying an agriculture-related degree, and recipients are selected based on their commitment to a career in agriculture, along with their leadership potential and high school academic record.