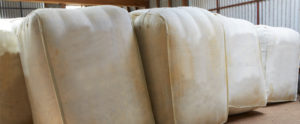 The NRI continued to explore uncharted territory with a 52 cent increase to close at 1582c/kg, making 2017 the best start to the calendar year since 2011.
From the opening bid on Wednesday, prices jumped quickly and continued to strengthen throughout the day to close 30-50 cents dearer. Thursday saw more increases, with the NRI adding a further 22 cents to the 32 lift achieved the previous day. The skirting market followed the lead of the fleece and experienced rises of 50 to 80 cents compared to the previous sale, with some finer better style types recorded increases in excess of 100 cents. The crossbred market maintained its re- newed support and managed to post increases for the third consecutive week, generally increasing by 20 to 40 cents. The oddment market did not get left behind with a 12 cent rise in the Northern region.
The sharp increase in prices has en- couraged more sellers into the market, pushing next weeks offering to 47,500 bales.