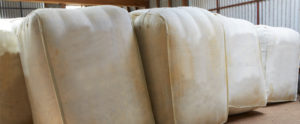 Just over 40,000 bales were put before the trade this week.
Merino fleece saw no massive rises or falls, just steady gains in the finer mi- crons and consolidation in the medium to broader end, as has been the case in recent weeks it was the low CVH finer section of the market which had the greatest rises with some lots recording increases of over 60 cents.
The skirting market was also a solid performer generally adding 30 cents for the week with the finer better style types enjoying the largest gains.
The oddment market was a mixed bag; locks and crutchings generally lost 5 to 10cents,stainswerefirmandlambs were generally 20-40 cents dearer however extreme in some cases, particularly washing lambs which are be- coming very short in supply.
The crossbred section continued to falter recording losses of between 5 and 20 cents.
46,000 to be offered next week. Source: AWEX