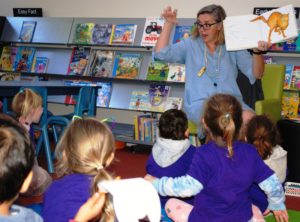 Children from Goodstart Early Learning Centre joined libraries and schools across Australia in reading the same book at the same time to promote National Simultaneous Storytime.
More than 500,000 participants in over 6,000 locations were captivated during the storytelling that took place across the country on Wednesday at 11am.
This year the book was Hickory Dickory Dash written by Tony Wilson and illustrated by Laura Wood. Hickory Dickory Dash is the real tale of the mouse that ran up the clock. It is an exciting tale of cat and mouse, as a mother mouse searches for her two sons all the while watching out for the prowling house cat.
Kathy Garland of Forbes Library had the little ones from Goodstart Early Learning hanging on her every word as she made the story come alive with her captivating storytelling. Each child was also given a mouse-mask to take them even further into storyland.
The children all had a wonderful time listening to the enchanting story and taking part in the activities after.
National Simultaneous Storytime (NSS) is held annually by the Australian Library and Information Association (ALIA). Every year a picture book, written and illustrated by an Australian author and illustrator, is read simultaneously in libraries, schools, preschools, childcare centres, family homes, bookshops and many other places around the country. Now in its 18th successful year, it is an event that aims to promote the value of reading and literacy that explores age-appropriate themes.
By Gizell van Wyk