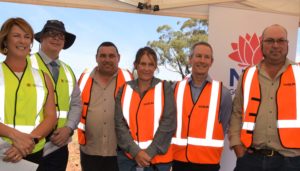 The missing 110km/h link on the Newell Highway has been completed and was officially opened by the Roads, Maritime and Freight Minister last week.
The $36 million upgrade at Trewilga (just north of Alectown) means the speed limit on the Newell Highway will be 110km/h all the way from Forbes to Gilgandra.
Minister Melinda Pavey said the roads budget in the Central West had tripled since 2011. The work at Trewilga involved the widening and realigning of 6.5km to improve safety. In addition a 1.3km northbound overtaking lane was built, as well as a bus turning area at Baldry-Peak Hill Road and a truck parking area on the eastern side of the highway.
The Minister mentioned the importance of the addition of the centre space in the middle of the road to give motorists extra time for correction.
A special guest at the event was 90-yearold Laurie Narris who grew up in Trewilga and remembers when the Newell Highway was first built in 1935.
"I was seven years old and used to ride five miles to school on my bike opening seven gates along the way." He clearly remembers how he saw a steam engine for the very first time working on the road, as well as the two teams of ten horses each driven by a man helping to build the road.
"We all laughed when our teacher said there would come a day when it would be a job trying to cross the highway…"
By Maggi Barnard