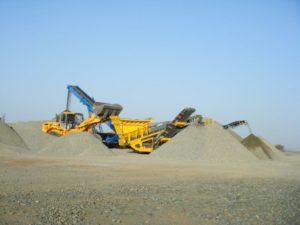 The economic benefits of the Inland Rail continue to flow with up to 16 new jobs created in the Forbes and Parkes region.
Two local companies have been awarded Inland Rail contracts totalling about $7 million work to supply ballast and capping for the project's first stage in NSW.
Calvani Crushing in Forbes has been awarded a $4.8 million contract to supply more than 150,000 tonnes of ballast and 75,000 tonnes of capping; while Ausrock Quarries near Parkes has been awarded a $2.1 million contract to supply more than 45,000 tonnes of ballast and 45,000 tonnes of capping. This product will be delivered over the next 12 to 18 months.
Inland Rail CEO, Richard Wankmuller said the first track for Inland Rail will be laid later this year between Parkes and Narromine and there is now a steady stream of supply contracts bringing jobs and opportunities to various parts of Australia.
"This is just the beginning job-wise. Inland Rail is gathering momentum each day and is delivering on its great potential.
It's expected to deliver 16,000 new jobs at peak construction, and an average of 700 additional jobs a year over the entire programme," said Richard.
Ballast is the small rocks that lie underneath, between and around railway sleepers. Capping is the smaller crushed rock that sits underneath the upper layer of larger rock to form the track foundation. Together, they fix the track in position, allow for drainage and reduce vegetation growth. Calvani Crushing Managing Director, John Calvani praised Inland Rail for its strong focus on local industry participation.
"The Inland Rail contract is the biggest we've been awarded and it's an advantage for everyone to source these products locally. It's allowed us to create new jobs and it provides a good income for these people," said John.