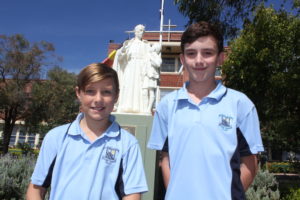 Two Year 7 students of Red Bend Catholic College won the seventh annual ANZAC Day writing competition for the northern region.
Sam Airey (12) was the winner and Tyler Nicholson (13) received a highly com- mended in the competition run by Federal Member for Riverina, Michael McCormack.
Students had to write an original and imaginative short story of 250 words or a poem under the topic Anzac Day in the Riv- erina and Central West.
The 7.1 English class of Mrs Scott researched WWI and read extracts form the experiences of soldiers, nurses and Aus- tralian families affected by the war.
The 22 students had to write a story from their point of view of a school student whose parent is off serving at the warfront.
In Sam's story he had to step into his dad's shoes when he went off to the war to help with jobs around the house like cutting wood for the fire. "It was a little bit hard to imagine myself in that situation."
He was very excited to have won – a first for Sam. "I was pretty excited and told all my family."
Tyler wrote his story as entries into his diary telling how his dad left for WWI and how a few months later a day after his tenth
birthday they received the terrible news of his dad not returning.
"I found it a challenge to stick to the word limit," said Tyler. He is excited about his first win and feels it has given him more confidence in his writing.
The two stories have been published in the ANZAC Day commemorative booklet with all the other winners' entries.
By Maggi Barnard