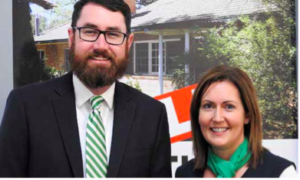 Just six months after Ian Simpson and Co. announced their new office in Condobolin, they are celebrating another major achievement. The company has joined forces with Tara Kelly, who recently took over the McCarron Cullinane and Chudleigh residential business.
The arrangement has seen the entire portfolio of rental properties and residential sales listings from McCarron Cullinane and Chudleigh transfer over to Ian Simpson and Co.
Tara has taken on the role of Director of Property Management, along with manag- ing the Ian Simpson and Co. business.
"This has been a long process but we couldn't be more excited, not only for our company but what this means for our cli- ents," said Ian, who has worked in Forbes real estate for the past ten years.
"Landlords and tenants now have a completely devoted property management division of Ian Simpson and Co., which will bring a service second to none," he said.
The service includes careful selection of tenants, thorough in-going and out-going condition reporting, and quarterly routine in- spections, combined with leading property management software and utilising the lat- est technology to effectively record activity for each property.
Director and Licensee, Tara Kelly, oversees all Property Management matters to ensure all legal and ethical obligations are met and clients receive exceptional service at all times.
"My passion for real estate is the driving force behind my success as an agent. I am extremely proud to now be in a position of owning my own business and working with such a dynamic team," said Tara.
"We don't only offer our services in Forbes and Condobolin. We service the entire Central West with listing and managements already in place at Grenfell, Parkes, Eugowra, Canowindra," she said.
Tara began working in the real estate industry in 1997, starting as Property Man- ager in Dubbo. She later worked in sales for Ian Simpson, before becoming Property Sales Manager at McCarron Cullinane Chudleigh.
Ian Simpson and Co. is a tight knit, hard-working community. They pride themsevles on working for their clients as much as they can, striving to be the best in all facets of the real estate industry.
Ian is a Licensed Stock & Station Agent, Real Estate Agent and an Accredited Auc- tioneer. He has won many awards for ru- ral property marketing innovation, and is committed to providing a professional and specialist service to clients both locally and further afield.
Contact Ian Simpson, Tara Kelly or any of the team at Forbes on 6851 1911 or Condobolin on 6895 4347.