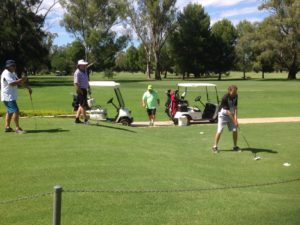 The Annual Ham Day sponsored by Kenny's Butchery, was the Saturday competition and was played as an individual Stableford. The temperature was hot enough to crisp the golfers and roast the ham, but also led to many scorching results.
The A-Division was led by Barry Parker who finished with 43 points. Close behind was Shane Sallaway on 41 points, and secured only by count back from Ian Bown.
The B-Division was very tight with a gaggle of players within reach of the win. Greg Webb, scoring 40 points won on count back from runner-up Ken Sanderson.
The ball sweep went to 37 pts on count back, being shared by: 43 – B Parker; 41 – S Sallaway, I Bown; 40 – G Webb,
K Sanderson, R Morris, K Herbert; 39 – A Tucker, B Slack-Smith, R Borger; 38 – C Barrett, R Besgrove; 37 – S Uphill, P Nixon, J Earl, S Grallelis. The NTP's went to: 9th – P Nixon; 18th – S Sallaway.
Frank Donohoe was the sharp-shooter on the day, scoring 2's on the 1st and 9th.
The course was playing sufficiently well to allow some personal milestones to be scored. Stephen Uphill had his first ever birdie on the 17th hole. A handy drive, followed by a 'driver off the deck' that finished 2 foot from the pin, and an easy putt finished it off.
Sunday was the Stableford Medley, also contested in hot sunshine heavy conditions, which led to a drop in numbers.
Ash Tucker, with 37 points, won the day on count back from Andrew Dukes. There was no ball sweep. The NTP's went to: 9th – Ray Taylor and 18th – no one.
Saturday 23rd December is an 18-hole Stableford, Sunday 24th December is a Stableford Medley, Tuesday 26th December is a Stableford Medley, Saturday 30th December a Canadian Foursomes and Sunday 31st December a Stableford Medley.
Wishing you all good fortune from Santa, a happy New Year's Eve, and hoping to see you next year.
By Short Putt