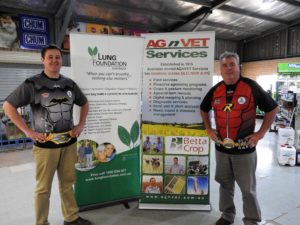 The dynamic duo will take no prisoners at Platypi Park this weekend as Forbes Rugby Club superheroes do battle with the competition in the annual Charity Day. The Mudgee Wombats will face the First Grade Platpyi who, donning Batman jerseys, are expected to "Smash", "Bam!", and "Pow!" their way through a hard-fought game.
Meanwhile, in red and black, the Wolfpack will channel Robin's enthusiasm to "Crunch!", "Kapow", and "Thunk" their opponents in a feisty display. After the games, the caped crusaders will offer up their jerseys for auction to the highest bidders. The Charity Day is one way the Club and players give back to their supporters and sponsors. It aims to raise funds for the local community and causes that are close to the club's heart.
Club Manager, Phil Prior, said that some of the funds this year will support The Long Walk for Lungs. Organised by AGnVET Services in conjunction with the Lung Foundation Australia, the walk will be supported by many participants who will be walking part of the journey with Bill Van Nierop. Bill was diagnosed in 2015 with Idiopathic Pulmonary Fibrosis (IPF), a rare progressive lung disease associated with scarring of the lung tissue that makes it difficult to breath. The five-year survival rate is as low as some of the more devastating cancers –
approximately 20%.
Bill set up The Long Walk for Lungs to raise awareness of IPF in rural Australia and raise funds to support research into IPF and lung disease more broadly, as 7 out of 10 research programs in this area will receive virtually no funding.
The walk will begin in Narromine on 14 August, and follow a 697km route through Central Western NSW passing through the towns of Trundle, Condobolin, Lake Cargelligo, Griffith, Leeton, West Wyalong, finishing in Forbes. Walkers AGnVET in Forbes have had a long association with the Rugby Club, and are grateful for its support in helping their colleague, Bill.
So, if you have time on Saturday, come along and support the teams and their fantastic efforts to support The Long Walk for Lungs and other local charities. The Colts will kick off at 12.45pm.