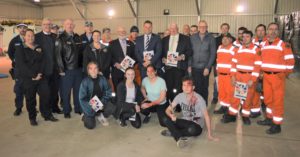 "Believable", "very realistic", "a real eyeopener" – these were some of the sentiments of over 400 Year 10 students from across the Parkes, Forbes and Lachlan Shire Council areas that attended last week's mock car crash demonstration held at Parkes High School.
Parkes, Forbes and Lachlan Shire Councils' Road Safety and Injury Prevention Officer, Melanie Suitor said the mock car crash demonstration is the cornerstone of the Not A Statistic! Youth Driver Education Program.
"This program is one in a suite of projects we run annually targeting young drivers in a bid to lower our local youth road toll," said Melanie.
Nine local high schools took part in the program, which included a morning and afternoon mock car crash demonstration at Parkes High School's Multi-Purpose Centre, as well as pre classroom lessons held at each of the schools.
"The mock car crash demonstration started with a short film that set the scene about how the crash occurred and introduced the youth actors. Then the curtains opened and the audience watched as the youth actors called '000' for help.
"When emergency service personnel arrived they were confronted with two severely injured trapped passengers, one dead passenger and a very emotional driver.
"The mock car crash demonstration concluded with victim impact statements which highlighted what life has been like for the driver, her surviving passengers and their families six months on.
"There are not only physical scars from a road crash but far reaching emotional ones too. And not just for the passengers but their families, their friends and the emergency services that attend the scene.
"I played the role of the narrator during the mock car crash demonstration, so I was in a great position to watch what the students were doing and how they reacted. They were all glued to the car and the actors – you could hear a pin drop. I think the message really hit home to them about the trauma involved in car crashes because it was so very realistic," said Melanie.
This year the program celebrated its 10th anniversary with the launch of a commemorative book. The book catalogues the program's origins, purpose and achievements, as well as lists all 100 past cast, crew and helpers and contains endorsements from the mayors and local emergency services involved.
Over the last 10 years, there has been a 27 percent reduction in crashes on local roads involving a young driver.