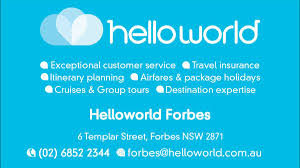 With winter well and truly here, now is the time to start planning your winter getaway!
Whether you like to cruise the high seas, flop and drop on a Pacific Island or take in the culture in Asia, we have something for you.
When thinking travel, call in and see Alison and her team at the local Forbes office of helloworld. They can tailor-make a package to suit your every need.