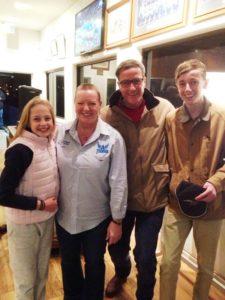 A loyal Forbes resident all her life, Marg Stirling started feeling about 12 months ago the need to do her part for local women diagnosed with breast cancer.
The inspiration came during a time when Marg started frequenting the gym as part of a rehab program. She became aware of a group of ladies also visiting the gym that were there for breast cancer exercises. "Once I got involved with the ladies after seeing them as well as hearing of the others, I thought it would be nice to do something
to give back to them and others that might go through the same thing," said Marg.
Last Monday, Marg's inspiring initiative to help local women living with breast cancer, finally came to fruition when she was able to present a cheque to the value of $6,700 to Lachlan Health Services McGrath Breast Care Nurse, Dianne Green and Janice Cassidy of Cassidy's Hair Salon in Parkes. These funds will be allocated towards material headwear (which can be quite expensive) and the local Wig Library, run by Janice.
The Wig Library services all people living around the Central West that is losing their hair because of cancer treatment. "People come to us to find a wig that suits them. We style it to suit their face and we also shampoo wigs that are worn very often. It's all free of charge and they can have the wig as long as they need it," said Janice.
As part of Marg's fundraising efforts she organised a luncheon at the Forbes Inn in April last year where more than $900 was raised through ticket sales, a raffle and also generous donations.
The shaving of Marg's hair was done at the Forbes Rugby Union Club as part of their Ladies Day held in June with a couple of hundred people bearing witness to Marg's big moment. Before the shave, Marg's hair was plaited in preparation to be used for a child's wig.
"We had items donated from various businesses and people in town which was auctioned on the Ladies Day. Among the auction items was a signed Sydney Swans jersey, Forbes Rugby Union Club football, Mahlah Molloy print, a wine pack and many other items," said Marg. The day raised a total of $5,393.
"I have just been amazed with people's donations and their support in my raising funds for this cause. A big thank you to the Forbes Rugby Union Club, the Forbes Inn, the Forbes Credit Union and anyone else that donated to my fundraising efforts," she said.
By Gizell van Wyk