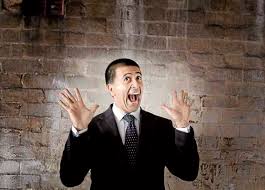 Stand-up comedian Vince Sorrenti will be entertaining more than 800 guests at the sell out Forbes Rugby Union Club President's Lunch tomorrow. In its sixth year, the lunch has become a social tradition to not only raise funds for the club but also for local charities and organisations. "We also love to get people together to celebrate our club's achievements, especially this year as we go into our 50th season," said Tracey Prior, Club President.
The unique purpose and simple concept of the lunch has proved to be hugely successful with long waiting lists every year of people wanting to attend. "It has just grown so much with 820 people attending this year," said Chris Sweeney, chairman of the President's Lunch. The proceeds of this year's lunch will go to the Forbes Badminton Club, Forbes Toy Library, Forbes Running and Triathlon Club and Ava Garland & Family.
Additional funds will be raised with the gourmet dinner auction courtesy of Eat Your Greens (for ten people plus a champagne, wine and beer hamper) and in support of Batyr. It is a purposeful organisation that aims to engage, educate and empower young people to have positive conversations about mental health. Chris said by supporting Batyr, the club would like to bring the organisation to Forbes to run its programs for young people in the town. There will also be $1,000 prize money for a winning table in the Platypus charity draw. The tables are run by a table captain who sells nine tickets to friends. "This concept is very simple and easy to run, and it also makes the event very social and community orientated," said Chris. "That is what rugby is all about: community, friendship and mateship."
If you would like to be a captain at next year's lunch, contact the committee on rugbylunchforbes@gmail.com.