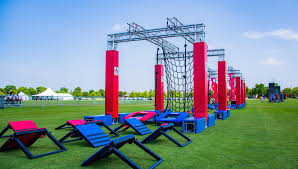 Forbes Shire Council is scoping out possible areas in the Shire that may be suitable for a Ninja Park facility.
As part of this Council is conducting community consultations to find out where the people of Forbes would like the facility located and what equipment they would like to see. Local schools have been visited and a public consultation is scheduled for Saturday 24 August 2019 in front of the Dentists in Rankin Street from 8.45am – 11.30am and at the Forbes Skate Park from 11.30am – 1pm.
"To have a ninja park in Forbes will bring yet another element of fun to the existing portfolio of parks we currently have in the Forbes Shire," says Forbes Council Mayor, Phyllis Miller OAM. "It will provide a great day out for the whole family with what I imagine will be many challenges set to inspire everyone to get involved. We feel that this could attract regional visitors and maybe more!"
The Forbes Ninja Park is a community project which aims to encourage fitness and fun amongst teenagers and young adults in our rural community. Two areas have been identified as possible contenders for the park, one being next door to the Forbes Youth and Community Centre in Battye St and the other next to the Forbes Skate Park. Council is open to other suggestions and invites the community to have their say.
"We want to give our young people, especially the older ones somewhere to meet and get active," Mayor Miller continues.
"This demographic makes up to 20% of our population and at the moment there is a lack of activities for them to engage in." Council will collate community feedback on the Ninja Park and continue to seek funding opportunities to bring it to fruition.