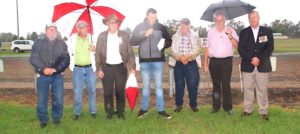 Despite the wet weather on Tuesday the Anzac Day Harness Race Meeting went ahead. This year we named five lifetime members: Bruce Chandler, Ross Hodges, Terry Hush, Barry Wright and Robert Parsons. They were presented with badges by Trevor Currey and Michael Walker from the Forbes RSL Sub-branch.
Each of the lifetime members have made an impact on harness racing in Forbes for decades. "It is people like them that keep the sport going in Forbes today."
The Forbes Services Memorial Club (FSMC) presented a cheque of $5,000 to the club officials. FSMC is the backbone of harness racing in Forbes with continued support every year. We cannot thank them enough.
The Forbes Harness Racing committee did an amazing job to organise the meeting on Tuesday. Thank you to the sponsors for supporting the club and the volunteers who gave up their time.
The next race is the TAB Carnival of Cups Market Day Meeting on Sunday with the feature race the Forbes Services Memorial Club C0/C1 final. Gates will open at mid- day and there will be market stalls and a jumping castle for kids – a great day out for the whole family.
By Emma Gaffney