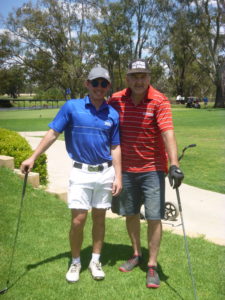 Saturday's play was an Individual Stableford sponsored by Kenny's Baa-Moo-Oink. The field of 57 players were keen to snare themselves a ham. The A-division was dominated by Todd Callaghan who managed two very fine 9's of 37 each amassing 40 points. Peter Grayson could only lament the missed opportunities in his round of 38, with two wipes. The B-division saw Brett Slack-Smith, who played early and posted 41 points, finish ahead of Stuart French with 40 points. The ball sweep went to 35 on countback, including those above plus: 38 – Bruce
Squires, Peter Barnes; 37 – Steve Grallelis, Barry Parker; 36 – Paul Kay, Niel Duncan, Michael Wood Jnr; 35 – Rob Webb, Peter Dawson, Jeff Haley, Peter Cowhan. NTP's: 1st – Scott Kirkman, 18th – Garry Johnson. Scott got his Sunday's play was the Stableford Medley with a small field but strong contest, this was won by Phil Duke with 38 points, closely followed by Dave Rhodes on 37. There was no ball sweep, and only one NTP. That was on the 18th taken out by Laurie O'Connor.
The semi-finals of the Wallace Cup were played and contested by Dan Bayley vs Ian Bown, and Lee Grierson vs Marty Cahill. Dan was victorious over Ian, while Marty was fortunate to score a win before Lee could gain an advantage on the longer final holes. On Saturday the annual presentations were made to Men's and Mixed competition winners from the year's events. Undoubtedly the highlights for the Ladies were the accolades to Julie Hurkett and Briana Duncan for their success. For the Men Doug Churchill stood out as a prolific receiver of many awards.
Tomorrow is a Stableford Medley, and again on Boxing Day, while on Saturday, 31st December will be the Canadian Foursomes. The New Year starts with a Stableford Medley on 1st January. I wish you all a Happy Christmas and enjoyable New Year, and look forward to seeing
you on the course in 2017.
By Short Putt