Hair With Style is an exciting and professional hairdressing salon based in the heart of Forbes NSW.
Established by Cindy Herbert in 1996, Hair With Style has continued to hold a reputation for high standards and quality hairdressing within the region.
Hair With Style is an Australian Hairdressing Council (AHC) Silver Accredited Salon which recognises the salon for its highly trained staff and professional and friendly service it provides for its clientele. The AHC is a globally recognised register for the hairdressing industry. The AHC separates professional salons from 'Kitchen Opera- tors' within our qualification.
As a Silver Accredited Salon Hair With Style has been accredited and acknowledged for its industry qualifications, uphold- ing current industry training standards and to deliver and monitor high level customer service for its clientele. "We pride ourselves on our standards of excellence in both high fashion and classical hairdressing" says Cindy on her salon's success. "Our unfaltering belief in our continual education and development is what drives us forward and keeps us ahead of the game".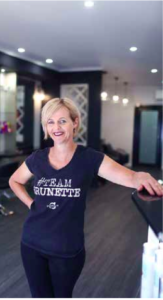 Hair With Style is a TIGI Professional Salon, this has allowed the team to have access to the latest trends in colouring and cutting. Through the salons TIGI Training and Education the team have 'their fingers on the pulse' of the most current and upcoming cutting, colouring trends. "The TIGI Shift Collection of 2017 is the focus of our team's education this season" says Cindy. "Many people today are happy to be experimental with their hair giving or team as stylists opportunity to be creative with new techniques".
In March this year Hair With Style received a complete makeover inside and out. K & H Designs have created a luxuri- ous space for Cindy's Team which is strik- ingly elegant, sleek and beautiful to provide a modern and professional service for their valued clientele.
"Our commitment to our clientele whether it is our first meeting or we have known them for many years is to make every visit a positive, beautiful and professional ex- perience. Our consultation is our clients chance to tell us what they like about their hair and what they may like to change using our TIGI Creative Consultation."
Hair with Style have a passionate team and are looking forward to continuing to give their clientele an ultimate salon experience.
Like them on Facebook @ Hair With Style Australia