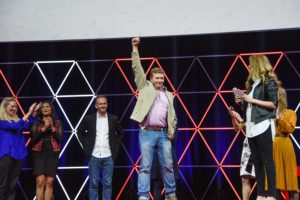 When you have an idea worth spreading, the chance to pitch it at a TED conference is a dream come true. This is just what happened to Forbes agronomist, Guy Webb. Guy was one of 6 people selected from 100 applicants to pitch a 30 second "fast idea" at the 2017 TEDx Sydney conference in June.
As co-founder of not-for profit organisation Soil C Quest 2031, Guy took the opportunity to pitch their major idea, which is to develop a way to use "carbon capturing fungi" to take carbon dioxide from the air and store it in soil. Farmers would then become "carbon saving superheroes" in the fight to reduce carbon dioxide levels in the atmosphere.
Guy made his 30 second pitch to thousands, including a live audience and viewers watching via the live simulcast and at satellite events around Australia. Guy's presentation captivated everyone, and he was voted the winner with thunderous applause. "This is an exciting and timely opportunity for the Soil C Quest project, with support being offered to the project from TEDx through Change.Org, a major marketing organisation."
"The project still has a long way to go though and we are commencing a crowd funding campaign in October to enable us to raise funds to undertake the research and development required," said Guy. To find out more about the project and how to support it, visit the website at scq.net.au or find them on Facebook or Twitter.