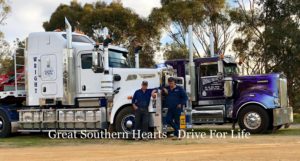 The Great Southern Hearts Drive for Life campaign rolled into the Forbes Showground on Monday afternoon. The campaign brought with it a convoy of trucks filled to the brim containing approximately $70,000 worth of hay, feed, pellets and any other personal necessities to provide much needed relief to drought stricken farmers in the Forbes and surrounding districts.
The campaign began on Monday, 24th September leaving from Kojonup in Western Australia's Great Southern, and has made its way across the Nullarbor, stopping off at key locations along the way where these supplies were needed most. The campaign gained serious momentum shortly after Glenn "Yogi" Kendall (of Kendall Trucking & Co – Katanning) and Peter Wright (of Peter Wright Transport – Kojonup) first floated the idea only weeks ago.
The campaign stemmed from the understanding that farming is very "challenging" and that right now "challenging doesn't even begin to describe what farmers in rural NSW are going through."
"We want farmers to know that there are people on the other side of the country thinking about drought struggling areas.
The Great Southern know they need our love, support and mateship," said Yogi.
"The campaign is 100 percent not-for-profit and all items have been donated by local farmers, community groups, as well as local community members. Every single cent raised and every donation is going where it is needed.
"Around 50 farmers in the Forbes district received assistance in some shape or form. The help has been very well received and we could see that people are quite desperate and how needed this was," said Yogi.
According to Yogi another goal for the campaign was to focus on creating more awareness.
"Farmers and community groups are desperate to know how they can help. Conversations with people who previously didn't realise how bad the situation was are being had and they in turn are doing their bit of spreading awareness and giving what they can," said Yogi.
The local CWA ladies and Forbes and District Lions Club combined on the day to supply the working truck drivers with afternoon tea, a hot meal at night and a cooked breakfast. Local Forbes businesses donated all the food required.
By Gizell van Wyk