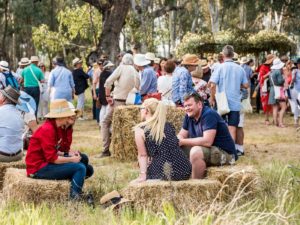 Grazing Down The Lachlan  A Foodie Adventure
Beneath breathtaking river gums, alongside a tranquil river and within a stock route that is synonymous with song lines and drovers, the scene is set for what is to be an epic long lunch this Saturday.
The meandering Lachlan River is the unique location for the exciting food event, Grazing Down the Lachlan, which will once again blow the minds of the most adventurous connoisseurs of fine food. Consisting of seven food stations, guests will be treated to another extraordinary experience.
It comes as no surprise that this event, now only in its second year, was sold out within the first four days!
Chairperson of the event, Wendy Muffet is excited to be bringing this dream to fruition once again, with a desire to support the 'Somewhere Down the Lachlan' Sculpture Trail.
"We wondered how we could best use such an event to capture the essence of our western rural life," said Wendy. "The food will be authentic of the place and sophisticated in its simplicity."
Attendees will be welcomed to country, then free to wander along a designated corridor of the reserve, enjoying portions of delicious food with a matched beverage. Guests will then be transported by bus back to Forbes on dusk, having enjoyed a truly amazing experience, embedded in nature.
Focusing on foods native to the Central West region, the degustation menu will be prepared and delivered by local restaurateurs and caterers. A sophisticated fusion of locally farmed and foraged produce, with traditional bush tucker, ensures the dishes created will deliver on the promise to be a memorable and unique experience.
Why Not Make A Weekend Of It?
Friday, 21st September:A chance to join a live Q&A with the Creative Director, Mark Olive, is offered. He'll be hosting the sommelier, a few of the farmers growing your food and wine, plus several other local stars on the couch in our magnificent Town Hall. Your questions are welcome! Join between 5 to 6pm for a drink or snack (available for purchase) with the Q&A running from 6pm to 8ish. Admission: Tickets to the Q&A are available on the website www.grazingdownthelachlan.com on the 'Shop' tab. 'Friends of Grazing' have free admission as part of their event package (bring your event tickets along). Sorry, no tickets at the door.
Saturday, 22nd September: (Sold out) Jump on your ticketed event bus and head out of town for an epic moveable feast of seven courses with matching drinks as you wander along a tranquil river within a stock route that is synonymous with song lines and drovers.
If you booked a seat on a complimentary connecting bus from Parkes or Condo, here's the when and where: Parkes: Leaves Cook Park, Parkes at 10am and departs Grazing at 5.30pm. Condobolin: Leaves the car park adjacent to Chamen's IGA, Condobolin at 9am and departs Grazing at 5.30pm.
Sunday, 23rd September: Join the Amazing Grazing Community Breakfast between 8 and 11am. Breakfast will be available for purchase in the pop up plaza in Templar Street along with tunes by Em Pavey. Then head on down to the free workshops (weaving, storytelling and painting) at the Wiradjuri Dreaming Centre from 10am onwards. Everyone is welcome to the breakfast and workshops. No tickets required!
Introducing The 2018 Grazing Creative Director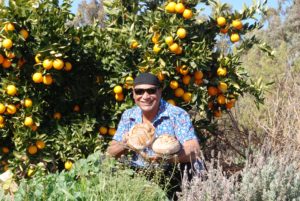 Mark Olive, aka 'The Black Olive', has been a chef for over 25 years and has become a well known Australian celebrity with his charismatic style and creative approach to food, starring in his own television series 'The Outback Cafe' and a host of cooking, lifestyle and travel shows nationally and globally.
Mark's passion for fusing native food and culture with contemporary lifestyle cooking has led to a huge international profile specialising in gourmet Australian Indigenous cuisine. Recently he's been a judge alongside Dan Hong and Melissa Leong on the successful series on SBS 'The Chefs' Line' followed by a new short series on NITV as a celebrity chef on the series 'On Country Kitchen'.
Mark trained under a European chef and has worked in a number of kitchens ranging from theatres, universities, health services, film sets and in a lá carte restaurants around the globe, before establishing his own successful business in 2008 which operated till 2014.
Due to his success, Mark has been selected to be a member of Tourism Australia's 'Friends of Australia' program, which was "created to harness the power of bright and influential individuals who are making a name for themselves on the world stage, and who have a genuine affinity with Australia".