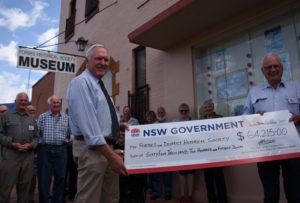 The Forbes Historical Museum has been awarded a $64,215 State Government grant. This funding announcement was made by Parliamentary Secretary for Western NSW, Rick Colless at the museum on Monday.
The Forbes Museum was one of almost 40 recipients to be awarded a grant under the latest round of the Government's Heritage Near Me Activation Grants Program. Rick said this grants program provided support to heritage items that were open to the public.
"This funding doesn't only mean we can invest in protecting and preserving our local heritage but it means we're giving more people the opportunity to appreciate their local history," said Rick.
"These grants acknowledge and support the vital role owners and managers of locally listed heritage items play in protecting our local heritage."
This grant will see the installation of a new elevator at the Forbes Museum. Several non-structural walls on the first floor will be removed by volunteers from the Forbes Historical Society to create a new display area increasing the museum's floor space by 30%.
Heritage Minister Gabrielle Upton said the funding was designed for local government, businesses and community organisations to reactivate and preserve local heritage spaces and precincts.
"This funding will help communities build on the knowledge they have with their heritage. Nobody knows their heritage better than the locals who live and breathe it," said Gabrielle.
The Heritage Activation Grants, which are part of the Heritage Near Me program, are specifically for items listed on council Local Environment Plans.