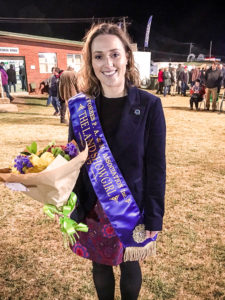 Local woman, Grace Allen was sashed as the new Forbes Showgirl last Friday night. However, she hasn't had time to bask in the splendour of winning the title. Instead, Grace is already back on duty fulfilling her role as a nurse in ICU at the Orange Hospital.
Grace was born and bred in Forbes and lived on their family property until she moved to Orange for work. Her goals for the future are to complete the Critical Care program through Orange Health. She is also looking forward to give it her all as the proud representative of Forbes at the zone judging held next February in Blayney.
Grace entered the Showgirl competition to ensure that the event would continue in future and that one day her children could have the same experiences as what she did at the shows.
Whilst representing Forbes as the Miss Showgirl, Grace is looking forward to promoting the show and getting everyone excited about the 2018 Forbes Show. She is also eager to meet up with the other Showgirl ambassadors at the etiquette course in January.