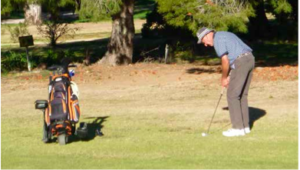 On Saturday, 35 players enjoyed the winter sun as they played in the Men's 18-hole Stroke event, sponsored by Forbes TV and Video Repairs.
The A-Division winner was Shane Sall- away with 72 nett. Runner-up was David Earl with 73 nett, scraping past Steve Up- hill and Ted Morgan on count back.
The B-Division winner was Milton Cart- wright, with 76 nett and a winner on count back. Runner-up was Don Ridley, also on 76 nett, as well as on count back, from Bruce Chandler and Brett Slack-Smith.
The ball sweep went to 75 nett on count back, going to: 72 – S Sallaway; 73 – D Earl, S Uphill, T Morgan; 74 – J Betland, J Haley, P Pymont; 75 – B Everest. The NTP's went to: 9th – A Callaghan; 18th – J Betland.
On Sunday, many players enjoyed the Stableford Medley and, despite the brace of "newcomers", none could get past the Sunday stalwarts.
Once again Bruce Carpenter showed his "Steady Sunday" form, producing 37 points to take the win. Runner-up was Ash Tucker on 36 points, and getting there by count back from Digit McAuliffe.
The ball sweep went to 33 points, go- ing to: D McAuliffe, B Shields, A Dukes, R Taylor and R Besgrove. The NTP's were: 9th – G Nicholson; 18th – A Dukes.
The Wallace Cup draw is up and look- ing bare. With only two weeks to complete your 1st Round matches we need to get things rolling.
Nominations for the Sand/Grass Green Championships, being held at Grenfell and Forbes Golf Courses on 19/20 August, are now open. Register at the GolfNSW website.
Get your partners for the two Lachlan Val- ley District events coming up. First is the Mixed 4-Ball, scheduled for Sunday July 23 at Parkes. Then there is the Mens 4-Ball vs Par, set for Sun 6 August at West Wya- long. Put your nominations on the sheets on the notice boards.
Coming up:
Saturday 8 July is the Monthly Medal, sponsored by Walkers AgnVet, with the Stableford Medley on Sunday 9 July.
Sat 15 and Sun 16 are the Mens Four- somes Championship, sponsored by S&S Welsh Transport. The Ladies have their 27- Hole Foursomes on Saturday, while there will be a Stableford Medley on Sunday.
Saturday 22 July is an 18-hole Stroke. On Sunday 23 July, we have the LVDGA Mixed 4B at Parkes, and a Stableford Med- ley at home.
By Short Putt