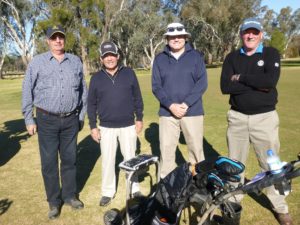 Last Saturday's Annual American Foursomes competition, sponsored by Milton Cartwright had a field of 23 pairs playing in conditions ranging from frosty to sunny.
The winners were not distracted by the roar of the footy semifinals crowd, as they were the early birds on the course. Paul Pymont and Frank Donohoe teamed very well to record a gross score 77 and a nett 65. Runners-up were Tim West and John Betland. They accumulated six birdies in their round for 68 of the stick and nett 66 1/8.
The ball sweep went to 69 nett, going to: 65 – P Pymont/F Donohoe; 66 1/8 – T West/J Betland; 66 7/8 – G Webb/ B Doyle; 67 7/8 – B Collie/B Everest and 69.0 – A Tucker/ C Barrett. The NTP's went to: 9th – B Shine; 18th – P Pymont.
Sunday's Stableford Medley was won by Scott Kirkman with 38 points, ahead of Max Haley with 36 points. The NTP's went to: 9th – Max Haley; 18th – Scott Kirkman.
Taylor's Terrors managed to scrap home in top spot in the 'Winter 3's' competition.
By Short Putt