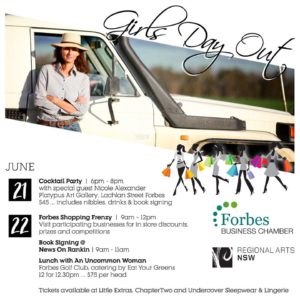 The Forbes Business Chamber is looking forward to bringing renowned author Nicole Alexander to Forbes for their Girls Day Out event and they are offering a few options for you to enjoy the experience.
For a fun filled cocktail evening join Nicole Alexander, the Forbes Business Chamber Executive Committee and members of the Forbes Art Society at the Platypus Gallery on Thursday, 21st June from 6pm to 8pm. Nicole spent a number of years working in Australia and abroad in divergent fields before returning to agriculture. Her writing has been published in various countries and she is the bestselling author of eight novels.
During the cocktail party, Nicole will mingle with guests and do a short presentation about her life, writing and her awards.
All guests will receive drinks, grazing table and the opportunity to speak with Nicole during the evening. Tickets are limited to just 40 guests and available from Little Extras, ChapterTwo and Undercover Sleepwear at $45 per person.
The exciting Forbes Shopping Frenzy will coincide with the Nicole Alexander visit to Forbes. Participating businesses throughout Rankin, Templar, Lachlan Streets and Parkes Road will be offering a variety of specials, discounts and quirky rewards on Friday, 22nd June from 9am to 12pm. Look out for the pink balloons, streamers and posters displayed in windows.
Be sure to make your way to News On Rankin for a book signing opportunity with Nicole between 9.30am to 11.30am, free of charge. Following will be the 'Lunch with an Uncommon Woman' where Nicole will present her story. The luncheon will be held at the Forbes Golf Club at 12pm and catered by Eat Your Greens. Cost is $75 per person, tickets available at Little Extras, ChapterTwo and Undercover Sleepwear.