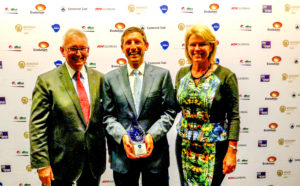 The Cowal Gold mine won the NSW Mining Operation of the Year Award at the NSW Mining Industry and Suppliers Awards last Thursday.
Cowal was recognised for its outstanding performance in 2016 on a number of fronts. The operation not only exceeded its planned production targets and completed an ambitious exploration program, but also experienced a record flood event that affected local towns and farms and isolated workers and restricted mine supplies. Cowal successfully managed through this event and was actively involved in flood mitigation and relief work in communities in the region.
The exploration program supported the plan for the proposed mine life extension by eight years, which had been approved by the board of Evolution.
Evolution's Executive Chairman, Jake Klein, said: "I had the honour of collecting the award which was a wonderful recognition of the incredible work our people at Cowal have achieved over the past year.
"The event is about celebrating the people and businesses that make NSW Mining strong and acknowledging the communities in which we operate that are pivotal to any mining company's strength and success. The award would not have been possible without the support of the Bland, Lachlan and Forbes Shires."
NSW Minister for Resources, Energy, Utilities and the Arts, Don Harwin MLC focused in his keynote address on the importance of mining in fostering the growth and strength of regional communities at the ceremony.