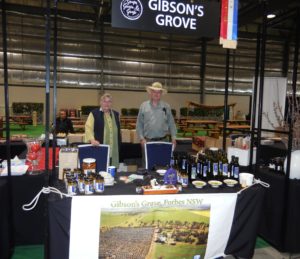 Local olive farmers, Greg and Clare Gibson of Gibson's Grove, were invited to showcase their products at the Grape, Grain and Graze Festival (a wine and food festival) held at the Sydney Showground at Olympic Park on Saturday, 11th August.
The prestigious invitation was extended to them because they were awarded 'Champion Olives' at the last Sydney Royal Fine Food show and also participated in the prestigious Presidents Award.
They were joined at the festival by four other award winners as well as over 2,000 wines, which had been judged shortly before the festival. Gibson's Grove continues to show the high standard of their produce.