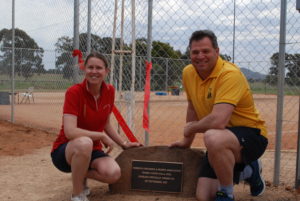 Families had a great day out at the annual Wirrinya Family Picnic Day last Sunday.
Unlike the previous year's wash-out, this year's almost 200 picnic-goers were blessed with beautiful weather. The event was held in conjunction with the official opening of the revamped tennis courts at The Shed in Wirrinya.
There was more than enough fun to go around for all the enthusiastic children and grown-ups with this year's theme the Commonwealth Games. From designing a medal to other events such as billy boil, paper plane flying, smash the jaffa, running races, coin toss and gumboot relay, family members had an action-packed day.
Wirrinya Progress and Sports Association president Monica Langfield said: "The Wirrinya Family Picnic Day has been going for at least 75 years. It's a chance for the community to get together and have a bit of fun.
"The tennis courts were built around 1930 and they have always been played. We were lucky enough to get funding to contribute towards the new fence. Everyone is really excited about it and believes the courts have never looked so good."
MP for Orange, Philip Donato, also attended the picnic and partook in some of the day's events. Philip officially opened the new tennis court fence constructed by SLR Contracting Forbes.
"We were glad to support the local community's application for funding under the Community Building Partnership grant to replace the old fencing around the tennis court. It's a great focal point for the local community and brings people together," said Philip.
Other sponsors who helped were GrainCorp and Evolution Mining.
Enjoyed by many generations over the years, the picnic day is a significant event in the Wirrinya community calendar.
By Gizell van Wyk