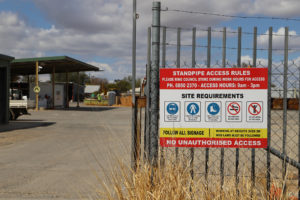 Forbes Shire Council has resolved to supply bulk portable water to rural residents of the shire free of charge. Residents are able to attend the Forbes Shire Depot between the hours of 9am to 3pm, Monday to Friday.
Residents are asked to clean their containers prior to pick up as Council accepts no responsibility for the quality of water once it has been discharged at the depot.
For safety reasons members of the public are not to drive into the depot area but must report to the office first. Loads should be secure and within load limits of the vehicles.
Registered bulk water carters will need to make contact with the depot to discuss a safe time to enter and use the high capacity hose.
Contact 6850 2370 for more information.