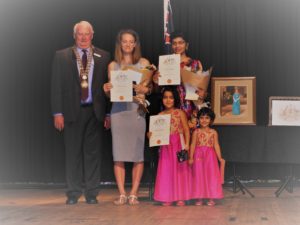 Forbes Mayor Graeme Miller donned his mayoral chain for the very first time last Wednesday when he welcomed four new Australian citizens at a special ceremony at Town Hall.
Emma Gamble from England and Murphy George from India with two of her children Sydney and Stephanie Sanu were welcomed as Australian Citizens before family and friends. "I was a little nervous standing on stage in front of everyone," said Murphy, "but it was worth it as I am just so happy and proud to be able to say I am an Australian citizen."
The Mayor said Australian citizenship was an important step in any migration story and it was about making an ongoing commitment to Australia and all that our country stands for.
The Mayor led Emma and Murphy in their citizenship pledge. Murphy's daughters, Sydney and Stephanie, then joined them on stage to receive their Australian Citizenship certificates to the applause of their loved ones.
After the ceremony the new citizens and their loved ones looked happy and proud in reaching such an important milestone.
The Nationality and Citizenship Act came into effect on 26th January 1949. This important piece of legislation meant that for the first time we could truly call ourselves Australians. Since this first citizenship ceremony 68 years ago, over 4.6 million people have chosen to become Australian citizens.
By Dianne Collie