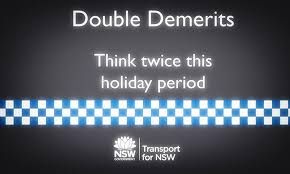 With school holidays approaching, motorists are being reminded that double demerits will be in force. Police will be targeting speed, seatbelts, mobile phone use and motorcyclists not wearing helmets.
Double demerit points will be in force for four days commencing on Friday, 28th September and ending on Monday, 1st October (inclusive).
Parkes Highway Patrol Sergeant, Dearne Jeffree said there will be more police on the road which means a greater chance of drivers being caught if they are doing the wrong thing.
"Police enforcement figures show that double demerit points do deter motorists from speeding and not wearing their seatbelt/ helmet when roads are at their busiest.
"Drivers are reminded that the demerit points increased for mobile phone offences to five in mid-September, so drivers caught illegally using their phone could be at risk of losing their licence," said Jeffree.
Parkes, Forbes and Lachlan Shire Councils' Road Safety and Injury Prevention Officer, Melanie Suitor said: "Small reductions in speed can make a large difference to impact speeds, stopping distance and the time you have to take evasive action to avoid a collision occurring. All these things can mean the difference between life and death.