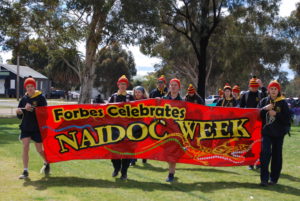 Students from various Forbes primary and high schools and members of the community celebrated Indigenous culture during NAIDOC Day last Thursday. Festivities commenced at the Wiradjuri Dreaming Centre from which participants marched to South Circle Oval for the main event.
Forbes Mayor, Graeme Miller, welcomed everybody to the celebration of the history, culture and accomplishments of the Australian Aboriginal and Torres Strait Islander people. "It is great to see so many young people here today," he said.
As part of the celebrations the mayor presented awards to Indigenous people who have made a valuable contribution to the local community. Matty Duke received the Forbes Junior Indigenous Citizen of the Year award and Kathleen Bowden the Forbes Indigenous Citizen of the Year.
Following this, children from the Wiradjuri choir of Forbes North Public School delighted the crowd with their song and movements.
Students were given opportunity to partake in some Indigenous games and everyone was treated to a barbecue. Finally, a performance was given by the renowned Indigenous dance group Koomurri. The day was filled with celebrations and learning of the Aboriginal culture.
By Gizell van Wyk