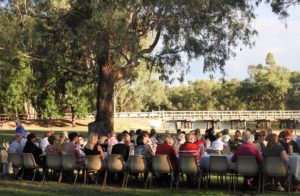 Nearly 90 women met for breakfast at Lake Forbes on Wednesday to celebrate International Women's Day (IWD).
The women were entertained by the talented singer Maddi Collits, while Cheryl Shirvington and Sandra Nicholson provided a Tai Chi demonstration. The guest speakers reinforced the IWD message of celebrating women and striving for gender equality with Marg Duggan, President of the Forbes Business Chamber providing information on the initiatives the Chamber provides. Dianne Green, a McGrath Breast Care nurse reminded everyone of the importance of monthly breast examinations. McGrath Breast Care Nurses assist individuals, and their families, experiencing breast cancer by providing physical, psychological and emotional support. This support is available for free no matter whether you're in the private or public health system.
"A breakfast meeting is ideal for working woman," said one participant Alpana Ma- hagankar. Mother nature was kind as the morning was sunny, yet crisp and clear. "It is so nice to have breakfast cooked for us, said Margaret Adams, ""especially bacon and eggs."
International Women's Day has been held annually since 1911 to celebrate the achievements of women and to strive for gender equality. This year's theme was Be Bold For Change .
Throughout history women have joined together and vindicated inequality to build a better future for their communities, children and themselves. Whether through bold well-documented action or through humble resistance that never made it into history books, women have united for equality and achievement.
By Dianne Collie