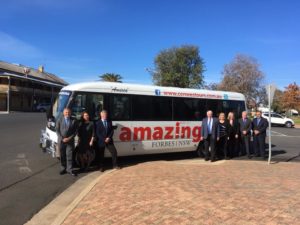 Forbes Shire Council has collaborated with well-known local business, Cenwestours to promote Forbes in a way that is sure to be noticed.
Mayor Graeme Miller said the eye-catching design is brand-lead and the partnership with Cenwestours increases awareness of Forbes' new identity.
"'Amazing' Forbes will be promoted on highways and in major cities across New South Wales. In essence this is a travelling billboard promoting Forbes," said Graeme.
The 'amazing' brand represents Forbes, its rich agricultural sectors, its strong and connected community and our Shire's key lifestyle attributes and rich natural resources.
The strength of the 'amazing' brand will help to promote Forbes as a place to visit, live and invest.
Owner of Cenwestours, Mel Sinclair said: "We are very proud to partner with Forbes Shire Council to help promote our town. We travel the length and breadth of the Central West and beyond and as far as Sydney."
"The bus is due to travel to Leeton for the McLeod's Daughter's reunion and will soon be heading to Sydney for a cruise ship transfer. We will be promoting Forbes everywhere we go," said Mel.