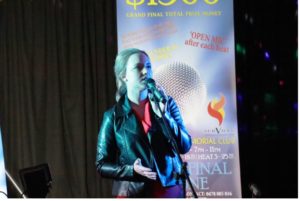 The Forbes Services Club Talent Quest revealed the splendid talents hidden within the community of Forbes.
An audience of more than 300 people were astounded by the remarkable performances showcased at the Talent Quest Grand Final which was hosted by the Forbes Services Memorial Club last Friday.
The competition consisted of three heats held during May of which 25 finalists were eventually selected to battle it out during the Grand Final. To move onto the final, contenders had to score 61 points from the judges.
With $1,600 in prize money to be won, the stakes were high and contestants came from as far as Young, Ungarie and even visitors from New Zealand, to try and claim their share.
Two independent judges from 2PK and ROK FM, John Daskey and Elliott Kinsela had the very challenging task to determine the ultimate winner, with each performance being as good as the one before.
Forbes dominated the Open division results with all winners being locals. This section was of very high standard and extremely competitive. Shannen Toole took out first place; second place went to Jade McGovern and third to Amanda Williams.
In the Junior division, Birdee Sideris won first place, Gracey Denham Jones came second and Georgia Sideris was awarded third. Winner of the Sub-junior division was Anabelle Van Wyk, Ruby Markwort (second) and Gemma Ellis (third).
Event organisers and professional performers, Bill Kosseris and Kirsten Minnick from Kosmik Country, noted that the contestants were extremely talented. "The talent blew us away. The performances here were as good as what you would see on The Voice," said Bill.
The level of judging was very strict across a broad range of criteria such as speech, diction and the audience's reaction, to mention just a few.
Due to the immense success and popularity of this Talent Quest, the Forbes Services Club has decided to host another competition this year taking place during September and October.