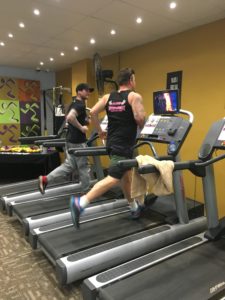 We all know that we live in a generous, connected, and compassionate community here in Forbes. Last weekend, we outdid ourselves raising over $1,000 at the Step Up and Run event that was held at Anytime Fitness to increase awareness and raise money for Suicide Prevention Australia.
The event saw hundreds of Anytime Fitness clubs in cities and towns across the country invite their members to step up to the treadmill challenge over a 24 hour period. Here in Forbes, the challenge started at midday Friday and ran until midday Saturday. More than thirty people came along and hit the treadmills to support it either by walking or running on a treadmill, or buying tickets in the raffle or 100 Club competition.
Amy Townsend, local Anytime Fitness manager, was amazed by the community response. "We were in the top 20 clubs across the country for fundraising," Amy said. "It was so good to see Forbes get behind such a great event and make it work."
Forbes raised more money than many larger centres like Dubbo, and even big clubs in cities like Melbourne. Having lost several friends to suicide, Amy wanted to do something to support suicide prevention work in Australia. She is grateful to the members of the community who came long to help out. "We did really well and I'm so proud of our town," said Amy.
Thanks and congratulations to Amy and everyone who got involved on the day.