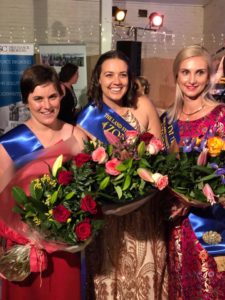 Forbes Showgirl, Sally Downie, moved a step closer to the state finals of the Land Royal Showgirl competition after being announced as a finalist in the Zone 6 Regional Showgirl Finals held in Young last Saturday evening.
Sally, along with 22 other hopefuls attended the ceremony hosted by the Young Show Society for the Agricultural Societies Council of NSW.
She was accompanied to the event by her partner David Turner and his grandmother, Elaine. Forbes Show President, Doug Nadin and numerous other Forbes Show Society members also came out to support Sally. The CWA evening branch sent a card and a donation, showing very much appreciated support to her.
"It was a great night! The Young Show Society did a great job of putting it on," said Sally.
Sally's win came very unexpected to her. "I'm shocked I got through but it was a nice surprise. If you had told me I'd be doing this a year ago, I wouldn't have believed it! The whole process wasn't even daunting this time. I enjoyed it and have certainly learnt a lot from the process, especially how to use my voice to stand up for what I believe in," she said.
"The girls I met were all amazing and are doing great things. They have a lot of passion for their community, so I think any of them could have gone through. It's an honour and I hope I can do Forbes proud and uphold our strong Showgirl history," said Sally.
In answer to how she will prepare for the next big round: "I don't really know how to prepare. I know I've got some shopping to do as jeans and boots probably won't quite cut it. I guess I'm kept well in the loop with what's going on with my role at Council and I'm always listening to the Country Hour and so forth, so that helps.
"I just really want to use the opportunity as a way to promote Forbes. To show that the Showgirl movement isn't a beauty pageant but an important part of our local shows and a way for young women to be involved in their community and learn life skills. Also for me, it is a space to talk about mental health in regional/rural areas," she said.
Sally grew up on a family dairy farm and completed her schooling in Forbes. She is currently studying a Bachelor of Agriculture at CSU. She is passionate about agriculture and helping local farmers through tough times. Her aim is to see the industry prosper and continue to develop.
Sally was recently appointed by the Forbes Shire Council as the Drought Coordinator and spent the weekend before
last in Canberra promoting her Grassroots Blueprint initiative to political leaders.
Dubbo's Showgirl, Josie Anderson and Coonamble's Emily Ryan were also selected.
The state finals will take place throughout the course of the Sydney Royal Easter Show starting on 12th April. It is the second consecutive year that Forbes will have their Showgirl representing our town at the prestigious event.
According to an excerpt from the Rules and Regulations of Showgirl Competitions, "The aim of the Showgirl Competition is to find a person most suited to represent young rural women of NSW. The young lady must be articulate and presentable with a pleasant personality. She will be required to meet a wide variety of people
and should be able to converse intelligently about Australia in general and in particular her own district."
By Gizell van Wyk