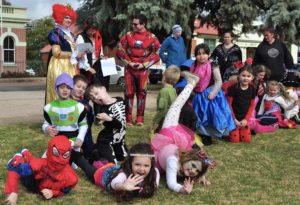 Cold weather conditions could not keep more than 600 children, families, presenters and entertainers from attending the annual Forbes Reading Downtown Day held last Friday. This year's theme was "Escape to Everywhere" and took place at Victoria Park, the Town Hall and Forbes Library.
Children and staff dressed up to the theme as their favourite book character to promote the importance of reading.
Forbes Birth to Kinder committee President Dell Welsh, thanks all for participating in the day. "Shared language, whether through books, rhymes or singing plays a vital role in preparing children for school,"Dell says. "We hope everyone who attended Reading Downtown Day has had fun sharing and learning".
Stories, songs and rhymes escaped all over Victoria Park with the help of Jayne Whitworth's "Beary fun time", Kristen's Dance Studio and Beth Osborne's "Where is the Green Sheep?" Maddie Collits and Rosie Yapp led an enthusiastic team from Forbes North to present "Piranhas don't eat bananas". CentaCare's Book Nook and Central West Libraries entertained the masses.
Gail Smith from Musica Arioso introduced all to the music and rhythm available for little people. "What a day! I was given the privilege of being the first person the children saw as well as the last. It was a long day, but oh so much fun –can't wait for next year," said Gail.
By Maree Yapp