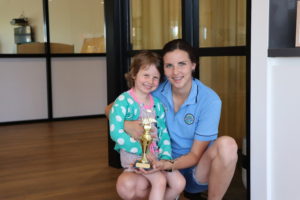 Forbes Preschool held their annual year end performance on Thursday at the school. The children and staff had been practicing very hard for the Preschool's Got Talent show. Finally, the big day arrived and eight groups of enthusiastic children got to show off their hard work in front of three special guest judges.
The children were adorable as they performed a combination of singing, dancing and musical instruments. There were even some 'look-a-likes' with one performer dressing up as Mayor Graeme Miller, another dressed up as Amy Shine, the director of Forbes Preschool and one as Preschool President, Chenoa Sanderson.
After the amazing performances, everyone was crowned a winner and could enjoy the big celebration. Each of the students happily joined their families to enjoy a tasty sausage sizzle.
This year the preschool decided to donate all the proceeds of the event to the Ronald McDonald House. "The reason why we have decided to donate to them is because we have a number of children that have used the house lately and statistics show that Forbes has a high rate of usage," said Amy.
Ava Garland and also some other children attending Forbes Preschool have had to make use of the Ronald McDonald House. Thanks go to Bernardi's for organising all drinks and bread for the event.
By Gizell van Wyk