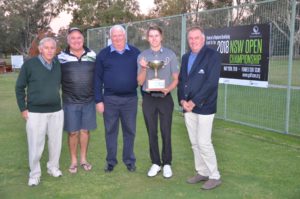 The Forbes Open held on Sunday, attracted a field of 120 who travelled from NSW and Victoria to play. It was good to see many returning players who were keen to play here again.
Once again credit goes to the greens staff and volunteers for their work in presenting the course to a high standard. Many visitors commented on how true, but challenging they were. Thanks also to Simon Houston for keeping the field on time.
The winner was Konrad Ciupek with a scratch score of 68. He had travelled from Melbourne for the event, keen to improve his experience as one of the sub-elite players in that state. He played alongside scratch golfer Will Arnold (Penrith), who between them provided a dazzling display of shot making. Konrad's score 4-under was always going to be hard to beat but eventually for contenders it came down to holing the putts when needed.
There was qualification also for two players to the NSW Seniors Open. The first spot went to Daryl McAuliffe and the second spot went to Peter Zotti (Wagga Wagga). Both were well pleased.
Also available was a spot for a player and two friends to play in the NSW Open Pro-Am. Local player Brett Thomas won this with the best nett score of the day of 67. There was a long line of mates eagerly shouting 'pick me'.
The main prizes went to: A-Grade Scratch – Konrad Ciupek (Victoria GC) 68; B-Grade Scratch – John Finlay (Manly) 84 and CGrade Scratch – Brett Thomas 67.
The Forbes winners were: A-Grade Handicap Runner-up – Shane Sallaway nett 72 c/b; B-Grade Handicap Winner
– Rob Webb nett 71; B-Grade Handicap Runner-up – Andrew McDonald nett 73; CGrade Handicap Winner – Greg Webb nett 68; Veteran Handicap Winner – Greg Webb (68) and Junior Handicap Winner – Cameron
McMillan (75).
The NTP's went to: 1st – A-Grade: K Ciupek (Victoria GC); 3rd A-Grade – R Nixon, B-Grade – F Collie, C-Grade – nil; 9th – CGrade – C Fealy (W/Wyalong); 18th – B Grade L O'Connor.
By Short Putt